Kris Jenner is opening up about her family has been getting through hard times recently.
The 63-year-old reality star spoke out about coping with difficult events just weeks after the drama between Khloe Kardashian's ex Tristan Thompson and Jordyn Woods.
"First of all, I pray about it. I really do. I find that just the spiritual side of me has to kick in because otherwise I feel like I wouldn't survive," Kris told Ryan Seacrest during an appearance on On Air with Ryan Seacrest.
She continued, "I think that my kids make really good decisions and I think…as challenging as some of these situations are, I think that because they have one another and they try to make really good decisions, that they're going to come out the other side with a lot of clarity and a lot of honesty and do what they feel like is the right thing."
Listen to all that Kris had to say in her interview…
In Will's Own Words:
Born and raised in the small farming town of Roswell New Mexico I knew at a young age I wanted to be apart of TV. I was always getting in trouble in school for talking to much. Which now I look back on as a badge of honor. Being a young gay person in a small town was difficult and I dealt with being bullied in middle school. After coming into my body and embracing who I was, I became well known in my town. I had my first taste for the camera at 15 when I was on MTV's my super sweet 16. I felt like a celebrity and at 15 with cameras on you, it's hard not to feel that way. I moved to Albuquerque New Mexico to attend the university of New Mexico to study communications and media. Which I planned on utilizing in TV/Film in some way.
I became the "face of FOX" which was a younger on the scene archer for my local news station. I completed my term with them and knew I needed to move to LA. I moved to LA at 23 with no solid job or plan. I believe my true calling is in TV because within two days of arriving to LA I met a film maker who hired me as their casting director.
I cast for a year and then started to get into producing. I associate produced for FOX and then moved my way up.
Senior Produccer on "Life of Kylie"
My recent accomplishments as a producer include producing Kylie Jenner's new documentary series "Life of Kylie" I quickly moved up the ranks and became a senior producer for the show.
In front of camera I can be seen on Revenge Body with Khloe Kardashian as the "muscle cub" I was voted fan favorite and started to host E! Red carpets and appear in other E! Shows. Most recently I will appear on episode 1 of "life of Kylie" and now am a full time mentor on Revenge Body season 2, where I help others on their journeys giving advice from my own personal journey on season 1.
If you would have asked me a year ago if I would be inspiring people to pursue their fitness journeys I would have laughed, but now hundreds of thousands of people send me messages asking for advice.
Will talking about Khloé on 15:10 minutes, he shared a fun story with her
Reality star Khloe Kardashian will host her very own makeover series on the E! Network entitled Revenge Body, starting tonight (January 12) at 8 p.m.
In each episode, Khloe will assemble a team of personal trainers, stylists, and glam squads to help two individuals undergo a major transformation both inside and out. Khloe will get to know each participant personally to find out what broke them down, and each episode will end with a big reveal of their makeovers and the chance to face those who doubted them.
"Really what this show is about is figuring out why these people gained so much weight, and how we could fix that problem," she told On Air with Ryan Seacrest on Thursday. "Yes it's a transformation show, but it's so much about the heart transforming … I call it 'revenge' because now they're able to get revenge on the people that really beat them down in life."
Also during the interview, Khloe broke her silence on the 17 arrests made in connection to the October theft of more than $10 million worth of jewelry belonging to her sister, Kim Kardashian West. Per French magazine Le Monde, DNA discovered on a piece of duct tape used to tie up Kim reportedly helped identify one of the suspects.
"I don't think any of us expected that to happen so quickly, and how many people were involved," she said. "So she's definitely relieved for sure. She'll never get back the things that were stolen from her, but at least I think it gives her some comfort to know that these people are all caught. I don't know what their consequences [are] or anything like that, but having these people pay the price for what they did is obviously a gratifying feeling."
Kim will tell her side of the story on the forthcoming season of Keeping Up with the Kardashians, which returns this March.
Source
Hollywoodlife.com: The Game got gross on his new song with DJ Khaled, dropping some seriously offensive lyrics about the Kardashian sisters. Were they tongue-in-cheek, or was he being serious? Click through to listen for yourself!
The Game, 36, dropped a hot new track on August 13, called "Sauce", that featured some unusual lyrics. Right before getting to DJ Khaled's part of the (really catchy) song, he sang about how he's had sex with all of the Kardashians! Well, the sisters at least!
"I used to f*** b***hes that Usher Raymond passed off / Then I f**ked three Kardashians — hold that thought."
Gross! We're assuming Khloe Kardashian, Kourtney Kardashian, and Kim Kardashian haven't gotten the chance to listen to this song yet. Because we're sure they have plenty to say about it!
It's entirely possible that the lyrics are a joke. After Khloe split with husband Lamar Odom, she was linked to The Game, but he debunked their romance rumors in 2014. As he told DJ Charlie Sloth on BBC Radio1Extra at the time, "Those are just rumors. It's funny man cause me and Khloe, we're cool."
Something else to note: The Game actually dated Kim, at least for a little bit, once upon a time. No way Khloe would date him, no how. "People don't know, but I've been knowing Khloe for 12 years, you know what I'm saying? I went and dated Kim for a while. A little short while. Me and Khloe are cool," he told the DJ during the same interview.
"It's funny man because me and Khloe we're cool.

"People don't know, but I've been knowing Khloe for 12 years – you know what I'm saying?"
However, at the time he did also reveal that him and Kim had a thing: "I went and dated Kim for a while. A little short while."
And with Kourtney having split from Scott Disick last year, it's possible a break-up fling could have happened.
Fans are even looking to other member of the famous family.
EDIT (08/16/2016)
The Kardashians say The Game's lying when he boasted he slept with 3 of them on his track, "Sauce" … he's wrong about at least 2.
Sources close to the Kardashians tell to TMZ you can count out Kylie, Kendall, Khloe, Kourtney and Kris … none of them had sex with Game.
The sources acknowledge Kim dated Game back in the day … so that one's on the table for discussion, but that's it.
Khloe and Game have been pals for years, but the Kardashian sources are adamant … strictly platonic.
That said, there's an interesting nugget. Game reached out to Kanye to get his blessing for the song, and Kanye said he didn't have a dog in the fight. Interesting … Game didn't call Kim.
But … we know Game sticks by his story. He nailed 3 of them.
Fashion and fitness icon Khloe Kardashian stopped by the Stern Show Wednesday morning to chat with Howard and promote her new FYI talk show, "Kocktails with Khloe." Given the year Khloe and her family have experienced, there was obviously much to discuss.
Few marriages have been as eventful in such a short time as Khloe's with estranged husband and former NBA player Lamar Odom. Howard asked Khloe about the initial discovery that Lamar had been cheating on her. Khloe says she never speculated that Lamar would be cheating, but certain elements, in addition to his 2013 DUI, let Khloe know that something was up.
"Nothing was on his cell phones, [but] he had an assistant. They were all on his assistant's phone, so he was really crafty," she explained.
From there, further details came to light, according to Khloe. "All these rumors kept coming out in the weeklies, and as much as I know they're bullshit, where there's smoke there's fire. Something has to be right here," she thought at the time.
"This one girl did this interview and she was so adamant, and when I confronted [Lamar], he blamed another teammate. He was like 'oh that's another teammate's girl, blah blah blah…' This was when he was playing for the Clippers his last season."
According to Khloe, the cheating was all the more puzzling not just because their own sex life was great, but she simply had no idea when he found the time. "It's another job," she mused.
Being in the public eye certainly didn't help.
"It is humiliating on any level, but I found out he was cheating on me the majority of our marriage, I just didn't know."
But Khloe still doesn't question why did he get married in the first place.
"I know he loves me; I know we love each other. I know all of that — I don't question those feelings." And despite rumors, Khloe's said she was not sure if
Howard wondered if it was a mistake to marry someone after only a month of knowing them, as Khloe and Lamar did.
"I'm sure people would say it's a mistake for me, I wouldn't change what I did because it was also some of the best times of my life … so for me, I wouldn't say it's a mistake. I would say I needed that experience for me and I never felt better in my life at that time."
Evidently, the family matriarch, Kris Jenner, as well as Khloe's sisters all voiced their uncertainty about her hasty marriage. "All of them were like 'you're fucking nuts.' It was nine days after meeting him we were like 'we're going to get married,'" Khloe recounted.
"It was just the most intense relationship I've ever had in a great way, but looking back in hindsight, would I say 'oh, yeah probably should you have waited a little bit?' Sure. But also, I don't regret doing it," she concluded.
In October 2015, after being discovered unconscious from an overdose at the Love Ranch brothel, Lamar was hospitalized and in a coma on life support for a few trying days. During that time, Khloe had to confront a hailstorm of issues with her husband.
First, she wondered why he was even at a brothel. "I've asked him that," Kardashian told Howard. "I said, 'listen, you do whatever the fuck you want to do but please promise me you'll never go back to a disgusting brothel again. And if you want to pay someone, you could pay someone in the privacy of your hotel! What are you doing?'" she remembered asking him.
Lamar allegedly told her that he doesn't know what he was thinking and that his brothel days are behind him.
Despite their struggles, Khloe has attempted to keep Lamar protected in a relative bubble during his healing process. "One day I came in and he was Googling 'Lamar Odom overdose.' I randomly walked into the room as he did this, and I was watching and he saw like surveillance footage or whatever online. So I grabbed the iPad and I was like 'what the fuck are you doing? I've been trying to protect you, I don't want this to hurt you!' I have to remember – he has no idea what people know," Khloe told Howard.
She doesn't believe the herbal Viagra was the primary cause of Lamar's overdose, despite the media's insistence. Howard asked Khloe why he was even taking it, to which she responded, "I think when you're doing so many other things, you're a little limp down there …"
Khloe told Howard that Lamar is finally recovering, crediting his athleticism with saving his life. "The doctor thought he was a goner, too." Fortunately, Khloe said she thinks Lamar is at about 70 percent right now.
Despite remaining close to Odom during his recovery, Khloe was cagey about indiciating whether the world would ever see them together again romantically.
"Never say never but … he has so much that he has to prove himself, first," she offered.
For now, Khloe confirmed that she's dating James Harden of the Houston Rockets.
Later in the interview Howard asked Khloe about her dedication to fitness and prior body issues. "I had a major awkward phase for a very long time," admitted Khloe.
"I've always had an incredible amount of confidence," she explained though. "When everyone said I was the 'fat Kardashian sister,' I never thought that. Looking back now, I see how healthy I was, but I still wouldn't say that's a fat girl, I would say she's a little overweight, she could maybe use the gym or cut back on a donut."
After moving to Dallas with Odom, Khloe began a strict workout regimen. With Lamar traveling for games and all of her family in California, Khloe often found that she had some extra time on her hands. "That's what I would do if I was bored — I would literally watch TV and do cardio," she described of her schedule.
"I really appreciate the hard work it takes to have a good body. Sometimes when things are given to you, you don't appreciate it and it's fucking hard work!"
There is one thing Khloe would like to change about her body though.
"I do want a boob job … what girl doesn't want fucking cleavage?" she quipped. Howard balked at that idea, insisting her breasts are great as-is. However, Khloe maintained that "she could always remove them


In 2015, Caitlyn Jenner dominated headlines across the nation, but few were on the front lines for her transition like her daughter. Khloe told Howard how the entire saga unfolded among the Kardashians.
"All these tabloids are coming out … we're like 'we could ask the source. You're our dad, we'll ask you.' Bruce would consistently tell them the rumors weren't true, which led to the family feeling betrayed when the news finally broke.
So how did Khloe and her sisters actually find out? "Something happened where we were at a meeting with E! for something and they mentioned that Bruce was having a TV show about transitioning or something. That's the first we heard of it," she told Howard.
"When things started going," Khloe remembered, "he would only want to talk to us on camera … and I think it was also for security. Maybe he felt like we couldn't get as upset or whatever."
Obviously, Khloe was justifiably upset: "We felt so like 'what the fuck? We've been asking you and why do business people know?' I never want someone to feel like they have one-up on our family. We are a family. We've never turned our backs on each other yet with all the clusterfucks of shit that's happened in our lives, why would we now?"
Howard pointed out how many expected gushing public support from Caitlyn's daughters, but given how the whole thing was handled, Khloe and her sister's honesty at the outset made sense.
"I don't give a fuck what you want to do – just stop lying to us about things," she vented. "Also it's like, each sister had a different story because he couldn't keep up. Just lay it on the table, what are we doing? What's happening? Even then he didn't tell us … we didn't know when he was going to start fully dressing as Caitlyn."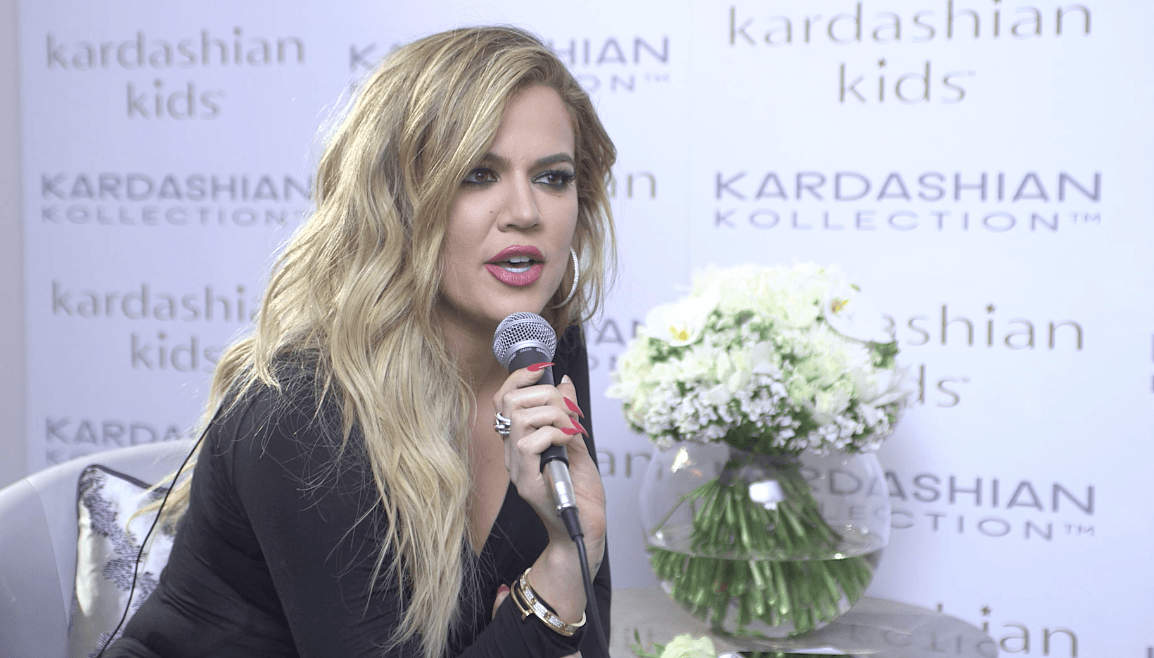 Khloe is addicted to working out because of how good it makes her feel and is thrilled with the results.
Speaking on Australian radio station NOVA FM, she said:
"I'm so into it. Even if it's just 30 minutes you feel, 'Okay, I feel good about myself.' … Definitely when I'm in LA, I go hard, and I've lost like 35 lbs."
And Khloe admitted that she finds it addictive.
She said: "I know how I want to feel in clothes, and it does become addicting. Once you start losing weight and seeing results, you're like, 'I want to see more!'"
Meanwhile, Khloe previously credited her slimline figure to the consumption of infused water.
Khloe shared her secret with her Instagram followers, writing: "I try to consume about 5 to 6 L of water a day. (based off of my body weight and how much I workout this number was given to me by a nutritionist) Of course, this does not happen every single day but the point is I try.
"But let's be honest… Water does tend to get boring after a while. So my current obsession is infused waters. Detox water or fruit infused water; infused water can generally be any combination of fruits, vegetables, and herbs immersed in cold water.
"Nutrients leak out of the fruit directly into the water. Some nutritionists estimate that you get as much as 20 percent of the vitamin content of freshly squeezed fruit juice, all without he extra calories or fructose. (sic)"
Bad Boy Records' French Montana is back to music-making with the release of his new Mac & Cheese 4 single, "Don't Panic" this week.
According to reports, the track is produced by buzzing hit maker DJ Mustard.
Of course French Montana's public romance with Khloe Kardashian doesn't mean the music was suddenly on the backseat. Mac & Cheese 4 is on the way, and today (Aug. 11) sees its first single. "Don't Panic" comes with DJ Mustard on the beat. DJ Mustard is still on a roll here with his starry key riff and burping, get-your-a**-off-the-seat bass line. (XXL Mag)
Last month, Montana premiered his "R&B B*tches" music video.
From Mary J. Blige to Miley Cyrus, French Montana pays tribute to the baddest chicks in music in the Eif Rivera-directed video for "R&B Bitches" featuring Fabolous and Wale. The Coke Boy is surrounded by ladies as he cruises in his yacht, and hollers at one of his dream girls, Ashanti. Loso shares his dreams of bagging a pop star like Kelly Clarkson or Christina Aguilera, while Wale has a thing for Tinashe and Erykah Badu. (Rap-Up)
While the LP is not due until November, Montana recently said he had actively pieced together his long-awaited Mac & Cheese 4 studio release.
"[It will be] Mac & Cheese, and it's like a follow up to all my mixtapes that I had. I got Kanye on the album, I got will.i.am on the album, I've got Durk on the album and Chinx," he revealed. And what's it been like working with Yeezy? "I love it — we've been working on his album and mines so we're just going back and forth." So far, French says that they've banked about five tracks, and it seems like we'll be hearing the first one on his project. (MTV)
Picking up where his previously free download projects left off, Montana said his upcoming release would cater to his fans' high expectations last January.
Montana has recently worked with a range of artists, from Miley Cyrus to will.i.am, and is tapping into his eclectic Rolodex for Mac & Cheese 4, including a track with Macklemore called "Nightmare." But the one person who he really wants is mostly unattainable. "The only person I wish I could work with right now is Max B," Montana says about his beloved, incarcerated mentor. (Rolling Stone)
Check out the new track:
Eminem, famous for dissing the likes of Christina Aguilera, Mariah Carey and Moby in his hit songs, is at it again with his new single "Berserk."
Produced by Rick Rubin, the track clearly has an old school Beastie Boys feel, not surprising given Rubin's past work with the group. But it's his harsh line about Khloe Kardashian that's most likely to get people talking.
"They say that love is powerful as cough syrup and Styrofoam / All I know is I fell asleep and woke up in that Monte Carlo / , we done both set the bar low," he raps.
Eminem also calls out Kevin Federline, poking fun at his fluctuating weight.
"So maybe just make like K-Fed and let yourself go," he raps in the chorus.
Eminem's highly anticipated new album, "The Marshall Mathers LP 2," is set for release on November 5.
Kris Jenner and Khloé Kardashian Odom stopped by On Air with Ryan Seacrest to talk about Season 8 of Keeping Up With the Kardashians and what they're most nervous for viewers to see this season.
Kris and Khloé dished that in addition to learning the sex of Kim Kardashian's baby with Kanye West in the June 2 premiere episode, Khloé gives advice to Kris for her own relationship with husband Bruce Jenner.
And with all those rumors that the couple is splitting and Kris admitting they need "space" in the episode, we needed an explanation. "Basically, he just drives me crazy after 23 years and I probably drive him crazy," Kris admitted. "And you know, you do need some space in a relationship, and that's the dynamic of us. You'll kind of see if you watch the show."
However, Khloé, who is happily married to basketball pro Lamar Odom, has a different thought. "In my opinion, sometimes too much space you get comfortable," the 28-year-old added. "It's okay to have a little bit of space or times of the day where you're like this is my hour … [but] I don't think you need so much space because I think you can get comfortable with that."
Another big moment in the premiere: The revelation of the sex of Kimye's baby! As for who in the Kardashian clan went to the doctor to see whether the baby was a girl or boy, Khloe shared: "It was the girls. We went a couple times and with Kanye … but the baby was always in a position where you couldn't tell the sex and this time that you're going to see on the show [Kanye] was in London or Paris. He had a concert."
And with knowing the sex of the baby … comes the shower, of course. The event is sure to be grand, based on the extravagant invite that featured a ballerina and requested "garden chic" attire. So will Kanye be in attendance?
"It's girls, but Kanye will come at the end," explained Khloe. "I said I want Rob [Kardashian] to be there the whole time because I feel bad he's like left out of all this stuff. So I said come the whole time, but I don't know if he is … but I think Scott [Disick] and Lamar might bring Kanye at the end … because Kanye feels it's a little weird if he's the only guy."
Other attendees will, of course, be half-sisters Kendall and Kylie Jenner. But will rumored boyfriend Jaden Smith attend the baby shower? Khloé describes her younger siblings relationship with the After Earth actor as: "They're fifteen. They're just having fun … they're a group of kids, a bunch of friends, but of course people just point out Jaden and Kylie."
Kris admits: "I'm really, truthfully nervous about Kim giving birth and getting through this whole baby thing. That, for me, I'm excited and anxious at the same time … but all the stuff that's been going through our lives … there's so much going on. It's so layered and complicated."
Khloé agrees, adding: "Kim's pregnancy … has been much more difficult than Kourtney's and so you get to see that. And I think it's really vulnerable of Kim to show that stuff because it's not all pretty … I would be worried [though] about my mom and Bruce's relationship." She adds that watching Bruce's sons Brandon and Brody Jenner's reconciliation with their dad is a sensitive moment on the show, as well.
To hear the full interview, listen above! And tune in to the premiere of Keeping Up With the Kardashians on Sunday 9/8c on E!
Khloé Kardashian Odom phoned in to "On Air with Ryan Seacrest" to talk the upcoming highly anticipated family special Ryan Seacrest With the Kardashians: An E! News Presentation.
The special, which features an intimate dinner party hosted by Ryan where no topic is off limits, included every member of the clan.
So what was served? And more importantly, how did the family get along all at the dinner table?!
Khloé shared: "I remember it smelled mighty delicious. It was fish, but we have like a pregnant person, and someone breastfeeding and their senses are so…I mean it was a pretty strong fish but that's what fish smells like, but Kim was not having the smell. Kim ordered just like a big pile of french fries…like a huge tower of fries."
"She's sitting between Robert and I and were both working on getting in shape and Rob was seriously like foaming at the mouth. It was so mean, it was definitely cruel."
And aside from learning Kim's pregnancy cravings, the 28-year-old also revealed what's up with younger sister Kylie Jenner and Jaden Smith.
"I will say, I'm kind of obsessed with Jaden. I think he's so sweet…but I will also say they're teenagers and I really can't keep teenagers straight. You just never know. Everything is up and down, but they're definitely best friends."
To hear more from Khloé, like how she scored her new slimmed down bod, listen to the full interview above.
Be sure to catch Ryan Seacrest With the Kardashians: An E! News Presentation this Sunday April 21st at 9pm on E!
Reality star and X Factor host Khloé Kardashian Odom phoned in to chat with "On Air with Ryan Seacrest" about her latest gig—spokesperson for U by Kotex.
Khloé explained Kotex is "a brand of feminine products and more," and she's helping to launch generationknow.com which is a "conversation starter where young girls can go and ask questions about their changing body…who don't have a place to go."
The Most Epic Celebrity Feud?
Khloé adds: "I remember when I was a teenager and it's an awkward conversation to have."
As for Khloé's other gig, X Factor, the host shared: "I loved it, I'm shocked that Simon [Cowell] didn't want me to take any lessons and he had faith in me like that. It was so much harder than I would ever have thought…it's scary, but Ryan that is hard to do, like more power to you."
For more from Khloé, listen to the full interview below.