Gallery Links:
Photoshoot> 2020 – Outtakes Dose & Co.
: Holland & Barrett has seen sales of new premium collagen and protein powder range, Dose & Co., reach one every two minutes following the exclusive UK release.
Holland & Barrett now stock the biggest beauty brand on the market, and reviews are staggeringly good.
Reality show star Khloe Kardashian is one of the masterminds behind the Dose & Co range, also founded by nutritionist, Libby Matthews.
The hugely popular product line launched into stores nationwide and online last Wednesday.
Following the launch, announced by Khloe to her 133M Instagram followers, the store – who holds UK exclusivity on the Dairy-Free Collagen Creamer – sold the equivalent to one every two minutes in the first three days following its launch, with fans rating the range 5/5 online, noting "glowing skin I've never had before".
Sophie Rose, Trading director for vitamins and supplements, Holland & Barrett, says: "2021 is set to be the standout year for drinkable collagen and the reaction to this launch confirms it.
We've seen demand for our collagen capsules and supplements grow significantly over the last 12 months as it becomes one of our must-have skincare essentials."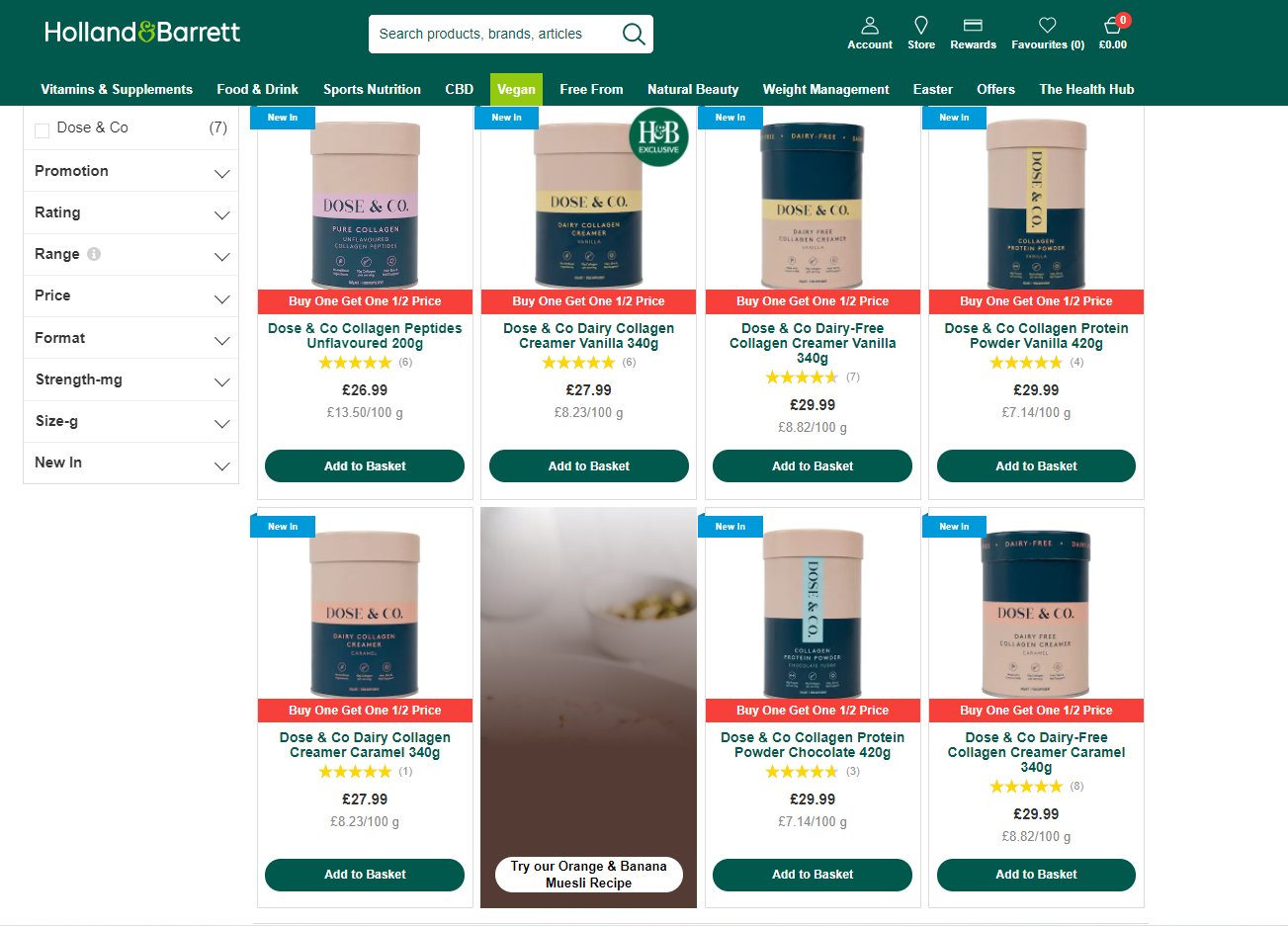 Elle.Com: The Dose & Co. ambassador talks internet trolls, quarantine with True, and her sisters's beauty secrets.
SASHA SAMSANOVA for Dose & Co.
If you've watched Keeping Up With the Kardashians, you know Khloé Kardashian keeps it real. Her off the cuff commentary and biting clapbacks have made her a beloved show fixture for 20 seasons. But these days, Kardashian has little time for Instagram trolls who nitpick her appearance. Between filming and raising her daughter True, Khloé has become the ambassador of Dose & Co, a new line of premium collagen supplements.
"At first, [mean comments] would definitely bug me, and I'm like, what in the world?" she tells ELLE.com over Zoom.
"I would never take my time to shame someone or be negative. I only comment nice and positive things. At first, I would let stuff like that affect me. And now I really don't care. Maybe if I'm having a bad day. But typically, I would say 90 percent of the time, it doesn't affect me."
However, there are exceptions. "Sometimes I have to fuck with people a little bit," she admits with a sly smile. "I try not to! I try to behave, but sometimes they're just asking for it."
Ahead, Kardashian shares her best advice for working moms, plus why she partnered with Dose & Co, beauty secrets from her sisters, and her favorite sunscreen trick.
Beauty starts from the inside out.
I became a part of [Dose & Co.] because when I got pregnant, I obsessed over "How am I going to make this earth better? And how am I going to make myself better now that I have a kid?" You go down these rabbit holes. I really wanted to fix myself from the inside out. Someone told me about doing collagen powders once I was done being pregnant. Dose and Co has such pure, impressive ingredients. The amount of collagen grams was totally different than some of the others on the market. I love the price point, but the selling point was that the packaging is all plastic free.
Prioritize self-care.
We definitely have a lot more time [in quarantine] to just pamper ourselves. I swear my hair was in conditioning masks for maybe a week straight. You have more time to make your routine and make sure you're following through with some of the things that you would maybe be too busy to remember. I tried to stick to my routine that I had prior, because it was giving me a little sense of normal. At the very beginning, I would say the first couple of weeks was so scary that I had no motivation to work out or anything.
Take mental health breaks.
You're watching the news all day, you're trying to figure out what's happening. I had to then pull myself back together and say, "Okay, you're going to have limited news time and what you're going to watch news for. I'm going to make a schedule. I'm still going to work out." And I had to bring True along with me to do a lot of things. I had to make sure that I was still taking care of my mental health.
Don't forget sunscreen.
I put sunscreen on my hands when I'm driving every time. You don't realize your hands are exposed to the sun through your windshield. Your hands will age the fastest. You can't really do a facelift for your hands or anything like that. So, take care of your hands. I'm a sunscreen junkie in the car more than anything.
Sisters have the best beauty advice.
[My sisters] are so inspiring for me. We always take tips and tricks. Kourtney loves skincare, but she loves very, very natural stuff. Which is great, but sometimes there's a fine line too. She might like things that don't work into my lifestyle. Definitely with hair, I think Kylie knows [best]. But there's definitely different sisters I go to for different things. We were just on a text chain talking about toothpaste and fluoride. And Kendall, because she has her toothpaste company, was giving us so much insight. I'm like, "Oh my God. Okay." It's so funny when different sisters have different beauty obsessions.
Refinery29.com: By now, we're all very aware that Keeping Up With The Kardashians is coming to a close. After 20 seasons and countless family bonding moments (and sister fights), the Kardashian/Jenner clan is calling it quits. And although it feels like the end of an era, it's also the start of a new one — especially for Khloé Kardashian.
In a Zoom call with Refinery29, she opened up about the end of the show.
"I am sad about it," she says, but acknowledges that it "was time": "It's like a break up. You can break up with a boyfriend, but you're still sad about it."
And what happens after a break up? You focus on yourself, your family, and your health. Kardashian says that she's looking forward to putting more energy into her business ventures, especially those that are wellness-related, like her new partnership with Dose & Co, an eco-conscious collagen brand based in New Zealand.
Kardashian is no stranger to collagen — she started adding it into her routine during her pregnancy with her daughter, True.
"When you're pregnant, you want to give you and your child the best, and you become sort of obsessed with creating a future for your child and what the best ways are to do that," the Keeping Up star says. So she started adding collagen powder into her diet. "For me, first and foremost, it was, how can I fix myself from the inside out [in a way] that's easy and attainable, especially with being a new mom? It's something as simplistic as adding collagen powder to a smoothie or coffee in the morning," she tells Refinery29.
While Kardashian's affinity for collagen — which she says has done wonders for her hair, skin, and nails — has made its way into her daily wellness routine, the Good American founder also noted that without fitness, she may not have gotten through quarantine during the global coronavirus pandemic this year.
"I definitely think because of my fitness journey and already having such a regimented schedule when it comes to working out, it kind of kept me sane during these crazy times," she says, before adding: "I had to learn to adapt by doing mommy-daughter workouts. [True] is obviously not working out, but it's things like me putting her in a wagon and sprinting up a hill. I belted a wagon to my waist because I don't have any help. We're all just trying to figure it out."
Kardashian says that during this stressful time — nodding to the pandemic and the West coast wildfires — she needs to keep her routine, for herself and for True.
"I want to show my daughter, by example, that there are healthy ways to be active every day. You don't have to be so rigid in the gym," she says. "I like to work out early, it just sets the tone for the rest of my day, it makes me want to eat better and be active and healthy. By her seeing me like this, I hope she's active and takes care of herself."
Another practice that has kept Khloe sane since the start of the pandemic is her daily prayer routine. "For me, I'm someone that prays often," she says. "But during all of this, I have learned to be more strict with waking up and saying a prayer every morning. We all have something to be grateful for, no matter how horrible this year has been for everyone in different ways."
Nzherald.co.nz: In a deal most Kiwi brands could only dream of, reality television royalty Khloe Kardashian has become an equity partner and global spokeswoman of New Zealand collagen brand Dose & Co.
The deal is set to take the collagen brand to the global market with Kardashian harnessing her 122 million-strong social media following and global influence as face and partner of the brand.
In an exclusive statement to the Herald, Kardashian shared that the deal came about after Dose & Co's stable Zuru Edge sent their products to the Keeping Up With the Kardashians star and mum of a toddler.
"I was sent Dose & Co to try and I loved the plastic-free packaging and what the brand stood for. Then as soon as I started to see results I knew I wanted to work with Libby and her team.

"I can see why Kiwis have such an amazing reputation because the Dose & Co team has been working so hard to make our US launch a huge success."
Zuru co-founder Nick Mowbray shared that it was Kardashian who then started the conversation that led to the global deal.
"The deal came about very organically. With all our Zuru Edge brands, the priority is finding authentic partners who share the passion for what we do. We sent Dose & Co to Khloe, she tried it, reached out to us and we started a conversation," Mowbray told the Herald.
Mowbray labelled the partnership "a dream", sharing that the star has been instrumental in the US launch, set to take place this week.
"Khloe has always been a dream of ours, because of her ability to connect with fans on a very authentic level. People trust her and they admire her when it comes to beauty, health and wellness. What's impressed me has been Khloe's level of involvement and attention to detail launching this brand; it hints of a very long and fruitful relationship together," said Mowbray.
The brand was founded in 2019 by qualified naturopath Libby and her brother Ryan Matthews. However, the deal with Kardashian was beyond what the siblings ever thought was possible when they launched their passion project.
"When I started Dose & Co I would never have dreamed of a partnership with someone like Khloe, but it's a testament to the product and New Zealand's reputation for creating disruptive brands," shared Libby.
"Having worked with Khloe I've been so blown away by her passion and work ethic when it comes to making a difference. She really believes in Dose & Co and the difference collagen can make to new mums like her and I."
After becoming a mother, Libby was inspired to create a range of eco-conscious collagen products that promote holistic health from the inside out, something which appeared to stand out to Kardashian.
"Libby gave birth to her daughter around the same time I gave birth to True and we both found collagen to be hugely helpful in the stages of post-pregnancy. Libby and I bonded over this journey and I loved how she was on a mission to make premium collagen accessible to more young mothers like us," Kardashian shared.
With the announcement of the conclusion of the Kardashian's reality TV show last month, the move appears to hint at what might be next for one of the most famous faces on television.
Khloé Kardashian : Filming KUWTK was an unforgettable experience
"I've always been really passionate about health and fitness and working with Libby and Dose & Co has reinforced my love for the wellness category. I'm fortunate that I have a platform where I can share the things that have helped me and enrich my life with others. This has been a really engaging process and I'm excited for the consumer response to the launch," the reality star revealed.
"Filming KUWTK was an unforgettable experience and I loved being able to work that closely with my family for so many years. We now have this amazing video album of all the incredible trips and experiences we've had."
Today, collagen remains one of the fastest-growing wellness categories globally, estimated to be worth over $5.25 billion is set to reach $8.1 billion by 2027.
Keeping sustainability the focus, the brand has gone from strength to strength, starting out as a purely E-commerce store and then moving into supermarkets in New Zealand and Coles in Australia.
"Over the next few years our emphasis is on growing the brand internationally. It's been an incredible ride so far and who knows what the future holds, but right now our focus is making Dose & Co one of the world's largest brands in the health and wellness category," shared co-founder Ryan Matthews.
Dose & Co will be available in Target, GNC, Vitamin Shoppe and Amazon stores across the US before the end of the year.
"However, we plan to announce plenty more partners in 2021," Mowbray added.
People.com: The mogul and mom found that Dose & Co's collagen blends helped bring her hair back to life after breastfeeding daughter True
SASHA SAMSANOVA for Dose & Co.
Like many new moms, Khloé Kardashian felt like her hair looked a little lackluster after giving birth to daughter True in April 2018.
 Bring her hair back to life after breastfeeding
"After I was done breastfeeding, there was a big change in my hair and I'm assuming it's from my breastfeeding [because that] is what I was told," Kardashian, 36, tells PEOPLE during a Zoom call.
Then she discovered New Zealand-based brand Dose & Co and connected with founder Libby Matthews' similar experience when it came to post-pregnancy hair loss.
"Libby's hair was coming out," Kardashian, who saw a more mild difference in her own hair, explains.
Libby Matthews tells PEOPLE:
"My hair was falling out in clumps and I tried absolutely every single supplement to stop it from falling out, but nothing seemed to work. Someone suggested collagen powder, and it worked."
Eco-conscious collagen blend brand
Kardashian quickly fell in love with the eco-conscious collagen blend brand and its mission to provide healthy, high-quality products at an accessible price point (everything is under $35). So now she's helping Dose & Co. as its global spokesperson to bring their lineup of collagen to the United States, available everywhere from Amazon to Target starting today.
"I was taking some collagen powders for a minute after I had True, but I was still a little frustrated that the ones I was taking had quite a few fillers or artificial color. I was really, really impressed by their ingredients and the price point," the Keeping Up with the Kardashians star says.
"Most of all, the plastic-free packaging was something that really spoke to me as well," Kardashian adds.
Now that she's been incorporating collagen into her daily routine for quite some time, Kardashian says she say a "difference really quickly in my hair, skin and nails."
"I'm just sort of in love and healthily addicted to adding a Dose & Co into my everyday routine," she says.
While her sister Kourtney Kardashian's famous for her morning avocado smoothie ("She doesn't drink coffee, so that's her coffee, if you will."), the Good American designer finds it easiest to put a scoop of the Dose & Co Pure Collagen Powder into her coffee each day.
"It's not something that's so many extra steps out of your day," Kardashian says. "My go-to is in my coffee, but whatever you like, go with it and stick with that. Sometimes I will put some Dose & Co Collagen Creamer but it depends on my mood."
Keeping up with her daily rituals — like taking her collagen, drinking enough water and working out — helps put Kardashian in a positive mindset to take on the day.
"At the beginning [of quarantine] I wasn't motivated. I would say for a good two weeks, I was just kind of stagnant and at home with my daughter watching way too much news, which is just too toxic," she says. "And then I was like, 'You know what? I got to [clap] shake myself out of this, get up, go to the gym, keep my routine.'"
Says Kardashian:
"It's the little things that make me feel so good and then make me okay to take on the bigger things. Whether that be just walking around the block with True for a half hour just to get some fresh air or to keep moving my body, that's what I need that make me feel good."
SASHA SAMSANOVA for Dose & Co.

Khloé Kardashian is getting into the business of collagen.
The Good American founder has invested in Dose & Co., a New Zealand-based company that sells a variety of collagen products throughout New Zealand and Australia. Kardashian is joining the company as a spokesperson and partner. The terms of her investment were not disclosed.
Speaking via phone with Beauty Inc, Kardashian said she became increasingly aware of the ingredients of the health and wellness products she uses after giving birth to daughter True two years ago.
"When you're pregnant, you start thinking about ways to better the world or yourself or you start to focus on the future and what you're going to leave for your child — at least that happened with me and my sisters," Kardashian said. "My sister Kourtney is a huge advocate for health and wellness. I must admit, before I got pregnant, I was naive to a lot of things. Getting pregnant, I wanted to find ways to better myself. I became obsessed with this whole collagen situation."
Steven Fernandez, Dose & Co.'s global content creative director, said the decision to bring Kardashian on as a partner is meant to reflect her level of involvement with "product development, content creation and marketing decisions."
"Khloé and the entire Kardashian family have an unparalleled ability to build brands," Fernandez said. "The key consideration for us from a business perspective was to structure it in a way that reflects her passion for the vision and the brand."
Kardashian said she was "intrigued" by Dose & Co.'s plastic-free packaging and the amount of bovine collagen — 10 grams per serving — in its Collagen Protein Powder.
"I loved how quickly I saw results in my hair, skin and nails and how I was feeling," Kardashian said. "I reached out to the company to talk about a couple of business things, and I really connected with the cofounders. A relationship was made. I wanted to get more involved with them."
Dose & Co. cofounder Libby Matthews said when she cofounded the company with her brother in 2018, she intended for its formulas to have a higher amount of collagen than competitor brands.
In addition to taking on investment from Kardashian, Dose & Co. is expanding to the U.S. The company will enter the mass market on Oct. 13, when it will begin to roll out to 4,500 doors at retailers such as Target, GNC, Wegmans and The Vitamin Shoppe. Dose & Co. will also be available direct-to-consumer and on Amazon.
During the COVID-19 pandemic, Dose & Co. expanded to grocery stores in New Zealand and Australia, leading to what Fernandez called "a great deal of new customer acquisition."
"Even during these uncertain times, people prioritize their well-being," he said.

Asked how she has been impacted by the pandemic, Kardashian said it is "hard to believe it has been seven months."
"It seems like just yesterday it was March," she said. "For my established companies, like Good American, they took major hits. It's really hard having to figure out what to do with your employees. People are getting salary cuts, some people are getting fired. We did everything in our power to not let that happen and figure out ways to prevent that.
"We have about 80 employees for Good American," she continued. "Nobody knows what's going to happen or when it's going to turn around. For Dose & Co., in New Zealand, it was thriving and they handled the pandemic there incredibly well. For Dose & Co., we have a better outcome than most people. I'm very grateful."