If there's one thing that Khloé Kardashian knows about, it's sister drama. So even though the events that unfold on Keeping Up with the Kardashian usually don't include criminal behavior — although there once was a case for the F.B.I. — it made sense that Khloé Kardashian's true crime show, Twisted Sisters, is focusing on crimes committed by siblings. Still, it's safe to say that the six-part series sounds way more intense than anything you've seen on the Kardashians' E! reality show.
The first biggest surprise about Twisted Sisters is its premiere date, which is coming up on Labor Day — Sept. 3 at 10 pm/9 Central on Investigation Discovery, to be exact.
When Kardashian's true crime show was first announced earlier this year, the series was set to air in 2019 on Investigation Discovery. While the show is coming out earlier than originally expected, it will still air on the ID channel, which is home to other true-crime shows like Murder by Numbers and The Perfect Murder.
Now, Twisted Sisters will join the channel's regular programming for six weeks, with a new episode every Monday night — the day after Keeping Up airs.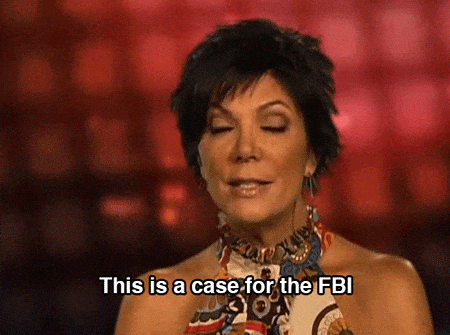 It turns out that Kardashian herself loves watching ID's true crime shows. In a press release, the new mom to baby True said,
"These stories of sisterhood gone awry will surprise even the most devout 'ID addict.' When choosing the stories, we couldn't believe how many untold tales there were to tell. As a true crime fan myself, I am excited to share with viewers a new twist on the term 'sibling rivalry.'"
Twisted Sisters most definitely won't show a fight between siblings like the one between Kim and Kourtney on the new season Keeping Up, that's for sure.
release for Twisted Sisters revealed each episode's title, and just from that alone you can tell that the show won't be messing around.
The first episode is called "The Naked Truth," and it tells a story about two separate homicides across Oregon that are linked to sisters, and that's just the first episode. It sounds pretty intriguing, and true crime fans will be happy to hear that they'll get intimate glimpses into the murderous stories since immediate family members and friends of these "Twisted Sisters" will appear in interviews on the show, according to the release.
Every episode of the show follows a mysterious murder plot or a strange disappearance. Whether the sisters work together to commit a crime or they turn against one another, you can be sure that it won't be like what you see on KUWTK. At least, it won't be totally like it.
Kardashian has taken on the role as executive producer in the past for her E! show, Revenge Body, which she also hosted. That means that she has plenty of experience that likely helped her to pivot to true-crime, but this new show is still a pretty big deal. While Kardashian's production company, Khlomoney Entertainment, helped produce Revenge Body, Kris Jenner also served an executive producer along with her daughter. On Twisted Sisters, Kardashian is the only family member involved. Even if the show has a focus on family, this projects seems to be one that Khloé Kardashian's taken on on her own.