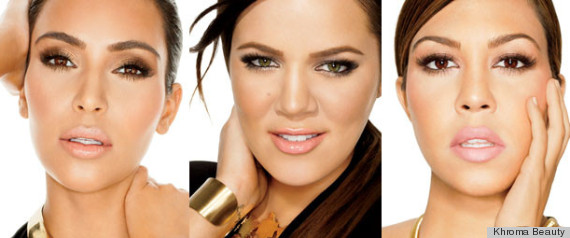 Glamour.com: The Kardashians just launched a new beauty, Khroma, to much excitement but one Los Angeles boutique owner is not having it. He doesn't like the fact that Khroma sounds and looks like Chroma, which is the name of his store so is suing the sisters.
Does his complaint sound reasonable to you? At a party for Khroma last week, Khloe provided a little background on how the name came to be. She said Kim actually came up with it.
"We were at SoHo House, having a meeting [with the co-creators of the line]," Khloe told Racked. We were talking, going over ideas, and Kim was doodling on a paper. We were literally throwing out names … we were saying we wanted the packaging to be metallic, chromes, we were going to do these colors, but also gold and rose gold in all of our packaging, chrome colors. We didn't know that she was so artistic!
"Kim started doodling the word 'Khroma.' We were writing down all the names, and everybody left, and there was this piece of paper on the table with her doodles on it, and we took it and brought it back with us and thought 'Hmm, this could actually work as a logo.' The name, I think, all three of us decided we wanted metallics in the packaging. Chroma means "color," that's where the word comes from."
So, there you have it. What do you think of this so-called controversy (I just resisted spelling that with the letter K).