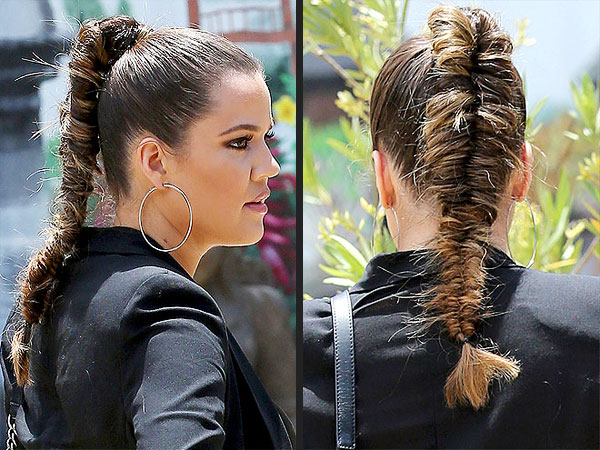 When we first saw Khloé Kardashian Odom step out wearing this super-thick "fishtail on steroids," we categorized it as one of those intense Kardashian Kreations that we could never achieve without our own team of stylists. But as it turns out, all it takes is a little patience.
"My hair is naturally curly, so [hairstylist Jen Atkins] blew it out, but not totally straight. We still wanted some curl," Odom tells PEOPLE. "Then she pulled my hair back into a pony, teased my pony so it was thick and fishtailed it."
The last step in achieving the reality star's summer-ready plait: a rat tail comb, which any good StyleWatcher likely already has in her beauty arsenal. "Jen used the pointy end of the comb to pull out the braid a bit and then she brushed over the entire thing," to make it look slightly undone, Odom tells us.
This is just the latest in a series of dazzling Kardashian plaits — and for good reason.
"Braids to me are the prefect summer style and keep your hair off your back and neck," Odom shares. "They're great for the beach if you want to swim. When we were in Greece, all we did was wear braids."
Another summer essential for the family: Their Kardashian Sun Kissed self tanner, which one of our own editors tested out and actually loved.
"We love a good tan. You look ten pounds thinner, tanner and more toned," she says. "With our system you have an exfoliator and a primer. So it helps prevent streaking. It also smells amazing. We were particular about choosing the scent."
And as a veteran self-tanner, the star has one important tip to share (you'll want to bookmark this):
"After I apply it, I take a makeup sponge and wipe the webs of my fingers and toes to avoid thick residue and even everything out." Spoken like a true pro!