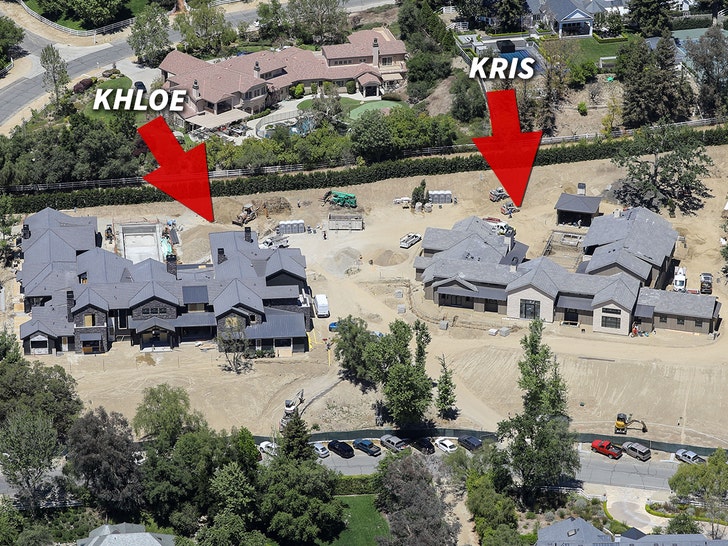 The two adjacent residences, which are still under construction, together total more than 26,000 square feet of living space.
By now, most avid real estate watchers already know that Khloé Kardashian and Kris Jenner recently acquired side-by-side homes in the longtime Kardashian family seat of Hidden Hills, a guard-gated community deep out in L.A.'s San Fernando Valley. What has remained unclear, however, is how much the mother-daughter duo paid for their new mansions, both of which are still under construction.
But records have finally updated, revealing the purchase price of both properties — and it's a lot. Khloe's new estate ran her $17 million, while Kris Jenner's somewhat larger home cost exactly $20 million, for a palpitation-inducing grand total of $37 million.
Per X17 Online, the momager's mansion is larger than her daughter's, weighing in at somewhere just north of 16,000 square feet of living space. Khloé's smaller place, while closer to 10,000 square feet, is still huge by most any standard. Most amenities remain unclear, but both lavish properties will have oversized swimming pools with cabanas, naturally, and both are designed in the ever-trendy modern farmhouse architectural style.
It's also certainly worth noting that neither property appears to carry a mortgage, at least for the moment. But the Kardashians are making more money than ever before — Khloé, whose Good American apparel brand has performed well since its 2019 launch, recently sold her "starter" mansion for $15 million, more than double her 2014 purchase price and the most ever paid for a Calabasas home.
And Kris, who according to Forbes personally raked in $60 million when Kylie Jenner sold a majority stake in her cosmetics company, also recently dumped her old Hidden Hills home, once featured in Architectural Digest, for $15 million — significantly above the $10 million she initially paid for the place.
The new properties are in a particular neighborhood pocket often considered to be the most exclusive section of Hidden Hills. Some of their nearest neighbors include financial heavy hitters like Jeffree Star, Vin Scully, French Montana, Lori Loughlin and Howie Mandel.
Celebrities That Live in Hidden Hills California
Where Is Hidden Hills California on a map?
Hidden Hills is located in Los Angeles County, adjacent to Calabasas and west of the San Fernando Valley. It is an extremely quaint and low-key area with only just about 506 families residing in the area for a total of fewer than 2000 residents. It is home to primarily married couples with the largest age demographic being in the 45 – 65-year-old range.
For those of you who have asked us 'where is Calabasas California on a map?' – you can see that it is just south of Hidden Hills, only divided by the 101 Ventura Freeway. Calabasas is also home to a ton of celebs, mainly in the exclusive community called The Oaks.
Is Hidden Hills a Gated Community?
This is more like a gated TOWN because ironically enough, the entire city of Hidden Hills is literally—a gated community. Hence the name. In fact, approximately 95% of it is situated behind a gate. Just one more reason so many celebrities flock to buy up real estate there.