Were the Kardashian Homes Affected by the California Fires? Here's What We Know
When news broke that Calabasas was evacuated as one of the cities in the path of California's Woolsey fire, Keeping Up With the Kardashians fans immediately worried that the celebrity family and their homes were in danger. The Kardashian and Jenner sisters have been updating their millions of followers on Instagram and Twitter throughout the day, as the fire has continued to grow and the situation has escalated.
While it is too soon to know just how much damage has and will be done by the fires, which are currently not contained, here is what we know right now about the Kardashian-Jenners and their million-dollar homes:
---
Kim Kardashian West
Last night, Kardashian West posted video to her Instagram story, as she watched the fires from the safety of a private plane. Shortly after, she updated fans with another post that she had landed at her Hidden Hills home with "1 hour to pack & evacuate." Earlier today, Kim tweeted "I heard the flames have hit our property at our home in Hidden Hills but now are more contained and have stopped at the moment." She went on to pray that the winds would stay in their favor – the winds are largely attributed to the rapid spread of the fire.
I heard the flames have hit our property at our home in Hidden Hills but now are more contained and have stopped at the moment. It doesn't seems like it is getting worse right now, I just pray the winds are in our favor. God is good. I'm just praying everyone is safe 🙏🏼

— Kim Kardashian West (@KimKardashian) 9 novembre 2018
Earlier today her husband, Kanye West, also used Twitter to reach out to concerned fans to thank them for their prayers and assure them that his family was together and safe.
Thank you for everyone's prayers. Our family is safe and close

— ye (@kanyewest) 9 novembre 2018
Kim's most recent post to Instagram is a photo of her with Khloe's daughter True, seemingly taken today. She told her 120million followers that she's snuggling with her niece to try "to get [her] mind off of this fire." She also reiterated her husband's earlier message, saying "We are all safe and that's all that matters."
Khloe Kardashian
The new mom has been the most active of her family on social media, since news of the fire first broke. Earlier today it was assumed, based on Khloe's tweets about the fires, that she was staying at her home with her brother Rob and baby daughter True.
I am with Rob, Dream and True and I am up keeping watch! Saying prayers and thanking all of the brave firefighters who risk their lives for us ❤️❤️ https://t.co/eVlJgWSqVd

— Khloé (@khloekardashian) 9 novembre 2018
While she stayed active on the social media platform, seeking evacuation notifications and offering prayers, a few hours ago she revealed that she left her Calabasas home with "the clothes on [her] back." That's not to say she didn't bring anything with her to safety – she says she "packed Trues entire bedroom and closet into my car."
I just left with the clothes on my back but I think I packed Trues entire bedroom and closet into my car 🤦🏼‍♀️ obviously she's all that matters to me 💜

— Khloé (@khloekardashian) 10 novembre 2018
Kourtney Kardashian
Kourtney, also used her Instagram story to let followers know she was evacuating with her family. Along with a photo of her packed trunk, she wrote "I pray that everyone is kept safe and protected from these fires. No Calabasas tonight."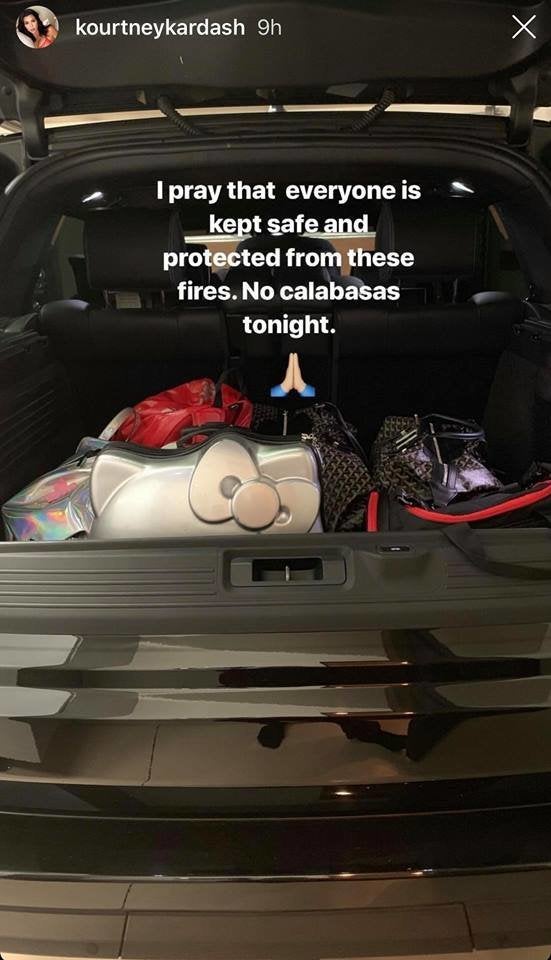 ---
Kylie Jenner
According to Kylie's Instagram story, she is currently in Baltimore with her daughter Stormi, for her boyfriend Travis Scott's AstroWorld tour. She did, however, comment about the fires back home, thanking the firemen fighting them before revealing "fire is so close to my home. hoping everyone is staying safe. I'm hoping for the best."
Kris Jenner
Kris Jenner, who has raised her family in Calabasas, has not commented on the fires threatening the town. It is worth noting, however, that as of yesterday she was in New York City, watching her daughter Kendall walk in the Victoria's Secret Fashion Show.
Caitlyn Jenner
It was reported earlier today by TMZ that Caitlyn Jenner's Malibu home was among those destroyed by the Woolsey Fire. Since that report, Jenner and her girlfriend, Sophia Hutchins, posted a video assuring fans that they and their dogs are "out of the fire zone" at a safe house. In the video, Jenner says "Don't know if the house made it or not, it's still up in the air." Hutchins contributes "We're having a vodka. It's been a hell of a morning. But we're safe, that's all that matters."
According to the LA Times, Jenner bought the "3,500-square-foot Malibu mansion in an off-market deal for $3.575 million" in 2015, "before her gender change in September."
---
Kendall Jenner
The supermodel sister was in New York City yesterday taping the Victoria's Secret Fashion Show. Though she hasn't commented on the fires yet, she is presumably still in New York and out of harm's way. Furthermore, though she purchased and lived in a Hidden Hills home in 2016, she sold the property in 2017 and moved to Beverly Hills; her current home is not at risk as of now.
---
Rob Kardashian
Rob has not commented on the fires, but Khloe confirmed in those earlier tweets that they were together. He sold his Calabasas home in 2017.